In the industrial field may encounter such a situation, distributed in different places (workshop, control room, etc.) between the PLC need to remote control between each other, usually using RS485 bus, through the MODBUS protocol to complete this function. Siemens PLC wireless communication terminal through Zhenxin communication ZP-8811 to provide RS232 / RS485 to wireless WIFIl network server, wireless reliable transmission distance of 300 --- 4500 meters or more. ZP-8811 can achieve point-to-point wireless PLC communication, but also suitable for point-to-multipoint and scattered is not easy to trench wiring applications, do not need to write programs, no wiring. ZP-8811 can be used with Siemens S7-200 PLC, intelligent instruments and sensors and other equipment composed of wireless PLC measurement and control system, and with the configuration software, man-machine interface, touch screen, monitoring and control terminals and other industrial products to achieve wireless 485 protocol, Siemens PPI protocol , MODBUS and other protocols of the configuration, for the field of industrial and control to provide long-range wireless communications low-cost solution. The program uses IEEE802.11b, IEEE 802.11b / g / n autonomous wireless communication, without the help of any external network environment, no operating costs, real-time communication, and through the Mitsubishi FX3U and 485ADP-MB module combination, to achieve the MODBUS Protocol communication. Can also be used to communicate wirelessly. Here to DTT DTD433 wireless module and Siemens S7_200 as an example to illustrate.
1、西门子PLCS7-200通过ZP-8811F串口转WIFI无线网络实现进程监控操作:
1, Siemens PLCS7-200 through the ZP-8811F serial to WIFI wireless network to achieve process monitoring operation:
ZP-8811F can do WIFI virtual serial port, installed our software after delivery, the device is exactly the same as a computer in the wireless communication. Simple and practical. ZP-8811F is a transparent transmission equipment, two-way transparent transmission, you can send, you can also receive, you do not need to understand WIFI, do not need to understand the technical details, you can use our software to achieve wireless extension serial, free your serial device, attendance Machine, access control, serial printer, RFID, PLC and so placed anywhere. There are guests in the plant by the four-rack wireless router, ZP-8811F and Siemens PLC connected RFID, in the packaging workshop to move the work
ZP-8811F module can set the work mode, by logging on to the built-in web page or through the AT command, only need to set once, and then each start will work in accordance with this work mode.
The ZP-8811F module has a reset button. Long press three seconds to enter the factory state.
ZP-8811F module can also be equipped with DC external power supply, you can access the battery for outdoor operations.
ZP-8811F with Andrews mobile phone can also directly log on the built-in web pages, you can use mobile phones for family, and other supporting development. We do not like some other products need to patch to access or can not visit. We also provide examples of Andrews test software.
2, through the ZP-8111 serial to Ethernet can be achieved across the network process monitoring operation:
Introduction to the program:
A. The use of low-cost ADSL, broadband transmission of data. In the use of dynamic domain name service, the host computer does not need a serial port server fixed IP.
B. Initiate TCP / IP connection by serial port server, connect IP or domain name.
C. Host computer work in the corresponding mode, if there is no fixed IP, you need to install the dynamic domain name service and the corresponding network parameters mapping.

Serial to Ethernet configuration management software.
One, point module search, you can see the module MAC address,
Second, the two-point MAC address can enter the parameter configuration interface. Third, fill in the new parameters you want to set, select the device you want to set to determine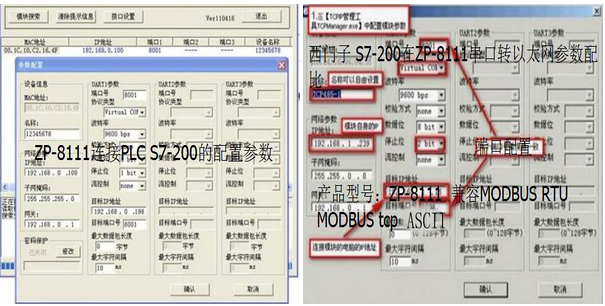 Third, ZP-8111 and the corresponding working mode protocol type when the corresponding parameters of the LAN we can automatically get to; external network must fill in the correct option, set up, the serial server will be completed (within 1 second update, than similar products to Fast.) You can search again to see the new settings. To power off the device, and then power on, the device will work with new configuration parameters.